Come see Hello, Dolly! next weekend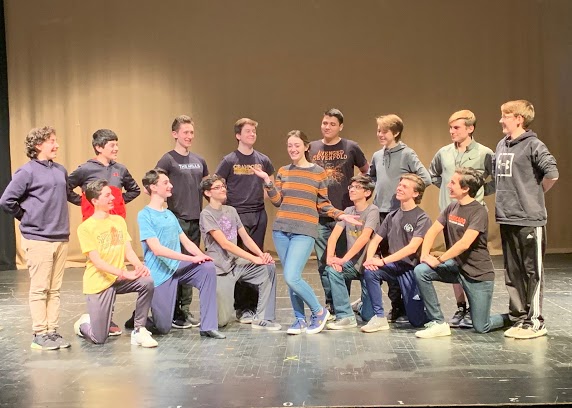 Staff, Writer
March 4, 2019
Hang on for a minute...we're trying to find some more stories you might like.
    The Cranford High School Performing Arts Department is pleased to announce its spring musical, Hello, Dolly! next Friday through Sunday March 8th-10th, 2019. The plot of Hello, Dolly! follows protagonist Dolly Levi, played by Nora Sullivan, as she heads to Yonkers, NY in search of finding the famous Horace Vandergelder a perfect match. The cast features many students including Noah Wohlsen (playing the role of Mr. Vandergelder), Dan Klimko, Max Wisnefski, Rose Michetti, Andrew Gordon, Matthew Mallick, Elizabeth Molfetto and more. Dolly interacts with other characters throughout her excursion including Horace's employees, Cornelius Hackl and Barnaby Tucker ; New York widow and hat shop owner, Irene Molloy played by Katrina Wischusen and her assistant Minnie Fay. Finally, there is the young artist Ambrose Kemper, played by Andrew Gordon. The upcoming artist is interested in marrying Horace's niece, Ermengarde. The cast has a total of 33 students who each add elements of dance, drama, and singing to the piece.
     Hello, Dolly! was first showcased on Broadway back in 1964 and has been brought back to life a total of four times, with the most recent time being in 2017. The original production of Hello, Dolly! with Carol Channing has won ten Tony Awards, a very prestigious record that has been held for decades. The show will be available to senior citizens on Thursday, March 7th at 7:30 pm with free admission. Regular paid admission will run for the 7:30 pm showtimes on March 8th and 9th and the final show will be a matinee show at 2 pm on Sunday March 10th. Tickets can be reserved and bought online at chs.booktix.com for $15, tickets will also be available at the door on the night of the show. Additionally, there will be student rush tickets available for $10 at the door for each show with a valid student ID. It is important to remember the Permitted Items Policy will be in effect for all of the performances so all large bags and purses will not be allowed into the auditorium. Don't miss out on such a great show, it will not disappoint!