NBA Playoff Round One Recap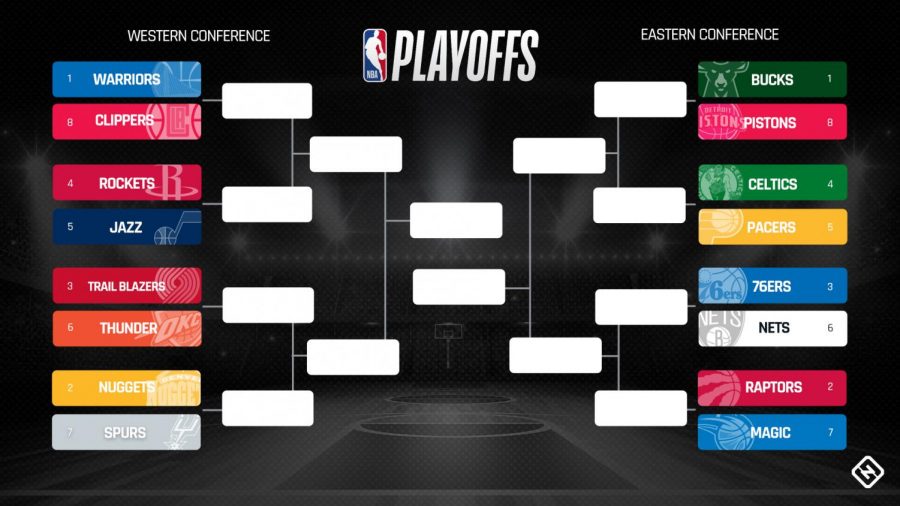 Kevin Donovan, Writer
April 29, 2019
For the first time in 14 years, the NBA playoffs would be without their face of the league, Lebron James. After going down with an injury, Lebron James's Lakers fell out of playoff contention. The NBA knew ratings were going to take a major blow as the 15 time all star had made 8 straight NBA finals and was the main attraction throughout all of sports. Playoffs ratings have dipped 32% from 2018.
As for the series themselves, some were competitive, while others were blowouts. The series that stands out is Blazers-Thunder which ended with Damian Lillard hitting a 34 footer at the buzzer, which happened to be his 50th point. After getting swept a year ago, the Blazers were being counted out and seemed to be as determined as ever to prove everyone wrong. The Thunder, lead by superstars Russell Westbrook and Paul George, were the heavy favorites to win this series and eventually advance to the Western Conference Finals. There was no love lost in this series as Damian Lillard, Paul George, and Russell Westbrook all rash talked each other through social media, on the court and through the media.
The second most intriguing series has been eighth seeded the Los Angeles Clippers against the two time defending Champion Golden State Warriors. The Warriors are record setting favorites in this series yet the series is still up for grabs as the Clippers only trail 3-2 with game 6 at their home court. The game that has stuck out is Game 2 in which the Clippers came back from 31 down in the third quarter to win. Even after winning Game 5, the Clippers continue to be disrespected as the Rockets (face the winner of this series) are already in San Francisco preparing for the Warriors as if the series is already over. The Warriors will most likely win this series but it has been one of the more captivating 1 vs. 8 seed matchups in recent memory.
As for the Eastern Conference, all of the series were over in the blink of an eye. No series made it past the fifth game with all of the top seeds winning. The only other series outside of the Golden state-Los Angeles Clipper face off is the Denver Nuggets against the San Antonio Spurs. This series has surprisingly made it to a seventh game as the Spurs do not have a true superstar. Game 7 will take place in Denver on Saturday.