Cranford Boys Lacrosse Stays Undefeated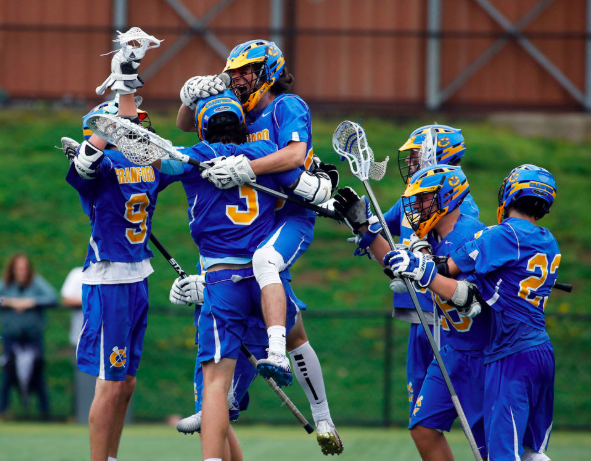 Ryan Echavarria, Writer
April 29, 2019
The Cranford Boys Lacrosse team is now sitting at eleven wins and zero loses after their 15-8 victory against Hanover Park Regional. Seniors Conor Halpin and Dante Cassaro led the Cougars in the game against Hanover Park. Halpin had 8 for 11 faceoff wins, four goals, and one assist. Cassaro had three goals and three assists. Mike Kalnins, Cole Blazek, Nate Caldwell, Ryan Echavarria, and Anthony Granata contributed offense as well. Phil Marotta posted seven saves while allowing one goal during the game.
The Cougars' biggest wins this year have been over New Providence (10-8) and Scotch Plains/ Fanwood (6-5). Offensively the Cougars are lead by Conor Halpin who has 46 points (113 faceoff wins out of 167 attempts) and Dante Cassaro who has 38 points. Defensively, Adam Kutzer has 61 ground balls and Phil Marotta has 102 saves.
The boys only need one more win to clinch the NJILL Kimber Division first place spot. Their next division game is against Columbia High School, which also happens to be "Senior Night." The game will take place on May 6th at Memorial Field. The team even got the three seed in the Union County Tournament, right behind Summit and Westfield. The Cougars will play the winner of Johnson vs. Oratory, and if they win that game they will go on to face the Westfield Blue Devils. Last year in the Union County Tournament the Cougars lost to New Providence in the quarter finals.