Mr. CHS: A Night to Remember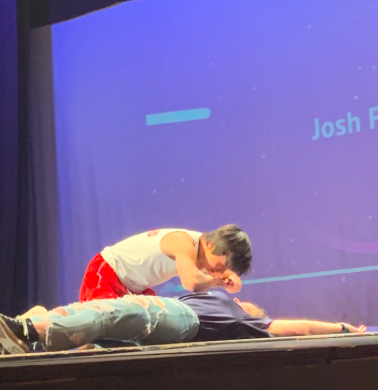 Jon Iosso, Writer
April 29, 2019
This year's Mr. CHS witnessed a fierce competition among some of the best students at Cranford High School. The participants were John Bush, KnG X, Josh Furer, Matt Mallick, Ryan Sawyer, and Matthew Savino. These young men participated in some exciting events, such as a talent competition, a question portion, an opening dance number and much more. They battled hard against one another all trying to claim their spot on the throne of Cranford High School as Mr. CHS.
The competition had highlights with some sincere, and also funny moments. John Bush played "Don't Stop Believin'" by Journey on a piano and had the crowd get involved into it as well by putting the lyrics on a screen. KnG X had an amazing performance of an original song where he even jumped down from the stage to engage the crowd more. Josh Furer used a foot pedal to play the background of a song on his guitar, while he shredded on a saxophone. Matt Mallick had a splendid performance of his unique dance moves that left the crowd wanting more. Ryan Sawyer sang a beautiful spanish ballad that most people did not understand the words to, but enjoyed it nonetheless. Lastly, Matt Savino did a skit where it was "A Day In CHS" which featured teachers as students, with stars like Justin Corazza and Robbie Ciarrocca, and Matt played the role of a teacher. The students of the crowd assessed that the interpretation of an average day at CHS was accurate, especially the part where Mr. Sorrentino messed up while saying the Pledge of Allegiance.
Overall, all the participants had great talents but once it came to the voting the judges had come to a conclusion by the end of the night. There was three awards besides the title of Mr. CHS: Mr. Congeniality, Best Dressed, and Fan Favorite, yet if one of the participants wins one of these then they can not win the title of Mr. CHS. Fan Favorite went to Matt Mallick, Best Dressed went to Ryan Sawyer, and Mr. Congeniality went to Matthew Savino. This left John Bush, KnG X, and Josh Furer to claim the title of Mr. CHS. The students locked arms and waited in anticipation as the judges announced that Josh Furer had won, and rightfully so. Everyone who went enjoyed themselves and had a great night. Hopefully next year is just as great!