Shining Stars Talent Show to Wow Audiences on Friday 5/3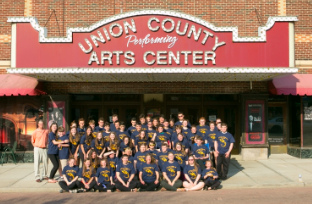 Meghan Santerelli, Writer
April 29, 2019
In just seven days, on Friday May 3rd at 7PM, the Shining Stars network will be putting on their annual talent show. For those of you who have never heard of Shining Stars, it is a talent show for adults with special needs ranging from the ages of thirteen to thirty. Sally Curci, who is President of the board, husband Mike Curci, who is the CEO, and their daughter Nicole Green along with Angie Sandoukas, who are co-directors are just some of the amazing adults who make this show possible. Their mission statement includes that, "Shining Stars Network is a 501(c)(3) nonprofit organization dedicated to shining a light on the special needs community through media, events and experiences." This show is one of a kind, filled with members of our community who have some amazing talents.
This years show incorporates a combination of classic broadway hits and modern movie songs that are sure to encourage all to sing along. Each participant has their time on stage and is able to sing/dance to their song, as well as a few group dances to get the crowd up and moving. Besides the participants, high school students from Cranford, New Jersey also participate in the show and are known as buddies. Both the buddies and participants have been tirelessly working for five months in order to create this show.
The main attraction that separates Shining Stars from every other talent show is the encouragement of audience participation. If you attend this show, not only will you be in store for a great night. But you will also find your spot on the stage, while the participants will find a spot in your heart. The directors of the show place so much value on accepting the beauty in everyone, this message is seen in the original song they will sing the night of the show, "All About the Beautiful."
Making history for the second year in a row, the show will be at the UCPAC in Rahway, NJ. This venue holds 1,000 people and the show was able to sell it out last year, and hopefully with your help this can be accomplished again. The Network is already very close to reaching this goal, as they have already sold 700 tickets. The link to purchasing a ticket can be found here! Witnessing this show is something very special and showcases the talents of so many individuals. Grab your tickets before they sell out!