Prologue Hosts Annual PoetryPalooza Event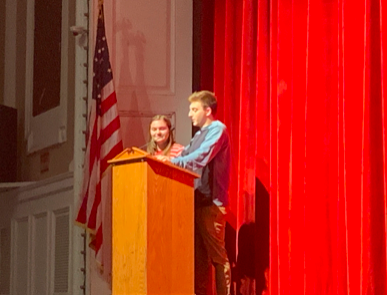 Kat Riggins, Writer
May 30, 2019
Mrs. Sherman and Cranford's literary magazine Prologue hosted the annual PoetryPalooza. The event is an exhibition of Cranford students who recite a poem of their choosing, and some English classes come down to enjoy it. Mr. Cantagallo and Mr. Sorrentino were also in attendance.
For the past two years that Mrs. Sherman has been running PoetryPalooza, she has been lucky enough to use the auditorium, and the jazz band has even joined in, performing their own pieces. The whole affair gives the vibe of a slam poetry night at a small coffee shop in some forgotten corner of Brooklyn. This was helped especially by a poem read by sophomore Dan Klimko.
Klimko read a poem titled "The Blues" by Billy Collins, and he was joined by Mr. Chernosky on the bass guitar. The poems jazzy lilt and content, accompanied by Klimko's smooth baritone and Chernosky's easy riffs made for a very original and unforgettable reading. Mrs. Sherman even said afterward "This was the best idea I've ever had."
The students who were lucky enough to be in attendance for PoetryPalooza were treated to a very rare and intimate form not only of performance but of writing as well. Many of the readers from PoetryPalooza are also writers, with pieces in Prologue. This year's edition comes out in June – see Mrs. Sherman to get your copy.