The Annual Water Wars Game at CHS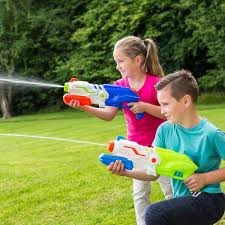 Have you ever been afraid to leave your house without checking your surrounding bushes? Well, Cranford High School students can tell you what this fear is all about when playing the game of Water Wars. This game takes place in the fall and spring of every school year and the participants are made up of sophomore, junior, and senior students who are up for the challenge. The rounds are a week long and at the beginning of the week, you are given the names of partners that you must stalk, chase, and soak with your water gun in order to move on to the next round. However, this is not the only challenge. Another pair of partners are given you and your partner as their assignment, and you must be extremely cautious in ensuring that they do not get you out. 
The rules of the game are somewhat controversial and complicated. No shots can be taken within the hours of 7:30 and 3:30, on school grounds, during sports practices or at work, or at senior fundraisers. However, shots can be taken leaving or arriving to these places. For example, school grounds count up until the sidewalk, which means that once a person steps off of the grounds that are considered to be safe, it is fair game. In terms of sports, parking lots and sidewalks going to and from practices and games are acceptable areas of play. On the controversial side, you may enter someone's house if a member of that household lets you inside. Additionally, you may open the doors of unlocked cars and enter garages that are open. Now, while this week of hiding and trying to shoot your target may seem like it goes on forever, there is a twist. If you shoot someone who has you, they are stunned for 24 hours. This means that they can not shoot you for an entire day, making it easier for the victim to hunt down their designated target. 
While this is a tradition at Cranford High School, it comes with sacrifice, loss of friendships, and many hours of camping outside of houses. If you are successful in getting your people out and not getting shot, you advance to the next round. The winner of the game receives a cash prize and the privilege of being the people who run the game in the spring. To conclude, this is an awesome game in which students can compete with one another and take on the challenge of becoming the next winners of Water Wars.