How Far Will Cranford Soccer Go?
The Cranford Boys Varsity Soccer Team has had a losing record in the regular season, but they think they can turn their season around in states.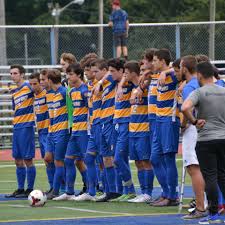 This fall the boys Varsity soccer team has started off to a poor performance with an overall record of 3-9-2. One of the biggest reasons for this record is the injury list. There hasn't been a game where the whole team has been healthy to play, and for a  majority of the games at least 3 to 4 people are normally injured. One injury that has been really hurting the team is captain's Colin Farley's back injury. He has been out for the majority of the games, and it has put heavy stress on the back-line. However, senior Patrick Walsh has stepped up to the task and has been delivering solid defensive work recently. 
After an upsetting exit because of penalties in the second round of the county tournament, the team hopes to turn their season around in the state sectionals. The team and the coaches believe that their section group in the state tournament is easier than their county group, which means the chances of them winning are higher. The Cranford team also got placed 11th in their group despite their record because of the big wins over South Plainfield and Rahway and ties against Governor Livingston and Westfield. 
The players have been working hard during practices to make sure they fix the biggest issues in their game, most of which has been errors in transitioning up the field and playing better offensively. Also, star center back and captain Colin Farley will be healthy to play during states which should strengthen the defense. The Cranford Boys Varsity team have their work cut out for them, but they seem capable and prepared to handle it.