Exciting Events for Seniors at CHS
Activities and Events that make Senior Year Special for Cranford High School students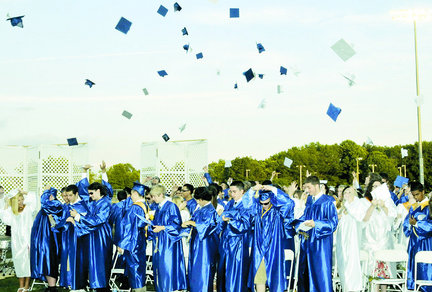 There are many exciting events that take place for Cranford High School seniors throughout the year. Many of these activities are fundraisers for prom. Because this year's senior class has raised very little money for prom, it is very important that seniors work to make these events as successful as can be. 
The year's first big event for seniors is Happy Hauntings. Happy Hauntings takes place on the Friday and Saturday nights before Halloween. The high school is converted into a haunted house for the weekend, and seniors try to scare the local people who come to the haunted house. This year's theme is Area 51, so seniors will be dressing up as creatures such as aliens and monsters, as well as security guards and doctors. 
The next significant senior event is Powderpuff. Taking place in November, Powderpuff is when senior girls play a game of flag football against junior girls at Memorial Field. Junior and senior football players serve as coaches for this event. The current senior class (then juniors) suffered the biggest loss in CHS Powderpuff history, so the current seniors will have to work to ensure a win against the juniors this year. 
Another exciting senior fundraiser is the Fashion Show, which usually takes place in March. Seniors dress up in suits and prom dresses, and perform funny skits and dances on stage for the CHS community. Following the Fashion Show, seniors stay at CHS overnight for the Senior Lock-In. Seniors play games and engage in a variety of entertaining activities throughout the night. 
The most popular senior activity is arguably prom. Prom takes place in June and is usually at the Birchwood Manor. Throughout all four years of high school, there are opportunities for each grade to fundraise for prom, so prom tickets can be less expensive for students. However, this year's senior class has raised a notably low amount of money for prom. Many of the other senior activities, especially Happy Hauntings, serve as big fundraisers for prom, so hopefully these events will be successful this year. 
The final senior activity is Project Graduation, which occurs after the CHS graduation ceremony. At Project Graduation, there are a plethora of activities and games. Students have the opportunity to win big prizes that will be beneficial to them in college, such as Amazon gift cards, TVs, and computers. Project Graduation provides seniors with a fun and safe place to celebrate their graduation all together. 
To conclude, it is clear that Cranford High School offers a multitude of activities for seniors. These events make senior year special and exciting for students, and they also have the potential to cut back the price of prom.