Cranford Soccer Stuns Oratory Prep on Senior Night
Hang on for a minute...we're trying to find some more stories you might like.
The Cranford Soccer season has been a disappointing one thus far as the team had a 3-13-2 record, but on a beautiful Wednesday night at Memorial Field 11 seniors took the field at home one last time. The emotions were high as the pregame festivities took place. Despite their disappointing record, senior captain and star defensemen, Tyler Burns said,"We came out full of energy. We had a big crowd and a ton of support behind us that really carried us for all 80 minutes and the two overtimes." Full of energy they were especially when senior Connor Blazek netted the first goal just 3 minutes into the game. The crowd erupted with life and the Cougars could feel that tonight was their night. The cougars would ride this momentum to a 1-0 halftime lead. However, this tough Oratory Prep team would not lie down. They would start the second have strong netting a goal of their own. The Cougars offense went stagnant for almost all of the second half and the defense had to stop some scary runs from Oratory. "Our offense was struggling a bit and they keep attacking us hard, but we feel as if our defense is the strength of our team and can stop anyone," Burns said. Burns made a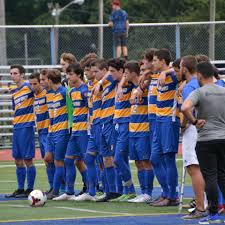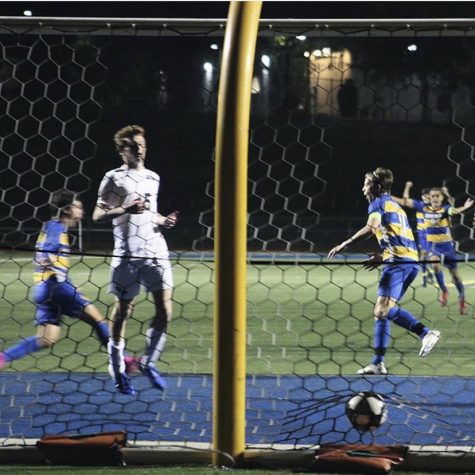 few crucial stops as did seniors Joe Silano and Jesse Madsen that forced the game into overtime. Both offenses had their opportunities to put the game away in overtime but the defenses held strong forcing the game into another overtime. The second overtime much like the first was a string of  missed opportunities by the offenses and critical saves by the defense and goalies but with about 15 seconds left Jesse Madsen made a stop and pushed the ball up to Blazek who blew by the defender and had a two on one with his teammate Kyle Lynskey. Blazek dribbled in and at the last second passed it to Lynskey who netted the game winning goal as the final two seconds drained from the clock. The team mobbed Lynskey and went wild while the student section stormed the field as the upset of Oratory was complete. "It has been a disappointing season so far, but we knew we had to get this one," Burns said, "It was overall a great team win and hopefully we can build on this momentum heading into the state tournament. This will be a night I remember forever." The Cougars play Summit in the first round of the state tournament on October 29th at 2:30 in Summit.