What Tua Tagovailoa's Injury Means for the Crimson Tide and His Future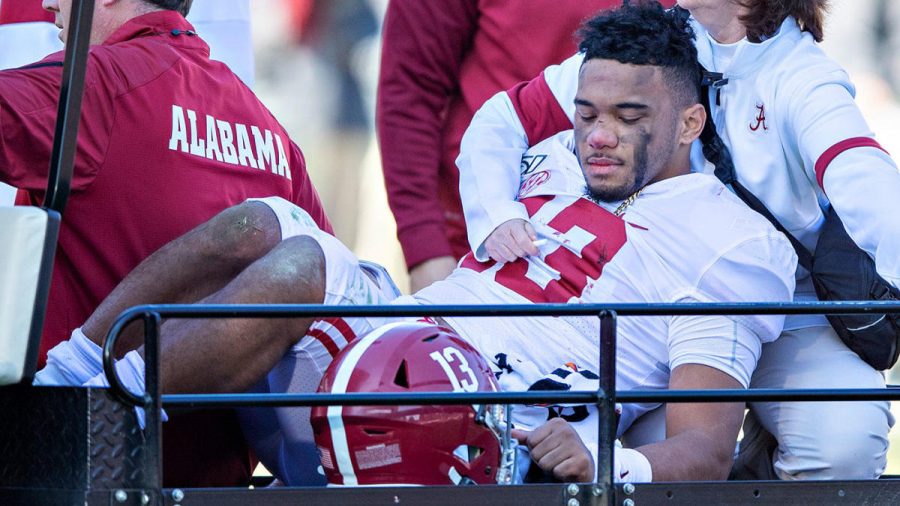 On Saturday November 16 Alabama opted to send star quarterback, Tua Tagovailoa out for one more drive, despite being up 35-7 with two minutes left until the half in a 35-7 game against Mississippi State. On a third down play Tagovailoa was hit and stayed down. The result was a dislocated hip that broke the wall of the hip. This is similar to the injury that ended Bo Jackson's career. 
Tua is out for the season meaning that Mac Jones will be at QB for the Tide in the upcoming weeks. Tua is one of the best players, if not the best player in college football, so his absence will be felt. Alabama is currently 9-1 and fighting for a playoff spot. In order to make the college football playoff, they need to win out. They have two regular season games remaining. They have a cupcake in Western Carolina on 11/23 but on 11/30 they play in the Iron Bowl against Auburn, their biggest rival. Rivalry games are difficult as it is, but to have to beat your rival on the road with your back-up QB and your playoff hopes on the line it seems almost impossible. The only reason it isn't impossible is Auburn has been very inconsistent on offense because they are very young and Alabama has a legendary coach, in Nick Saban. If anyone can get a win in these difficult circumstances it is coach Saban.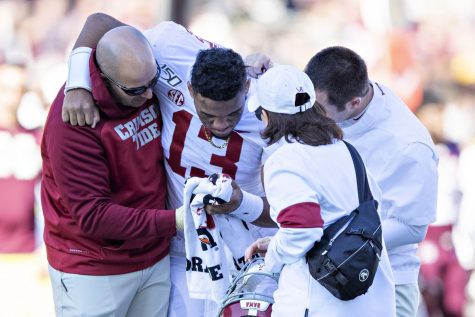 Not only did this injury impact Alabama, but it also impacts Tua's future. Tua was expected to leave Alabama this year and enter the NFL draft. All the experts were saying he would be the number one overall pick which would be a hefty payday. However, with this injury Tua's future is up in the air. Tua's best bet would probably be to return to Alabama for his senior season and show the NFL scouts and executives that  he is still an elite talent. This would allow Tua to get his degree and all the time he needs to rehab his injury before returning to play. Tua could still come out and enter the NFL draft but because of his gruesome injury his draft stock is plummeting. His draft stock is plummeting because of the great season Joe Burrow is having, the hype around Justin Herbert, and the uncertainty around how Tua will recover. If Tua comes out this year he will be losing millions of dollars as a result of his plummeting draft stock. It will be interesting to see how Alabama handles the adversity and what Tua decides is the best option for his future.