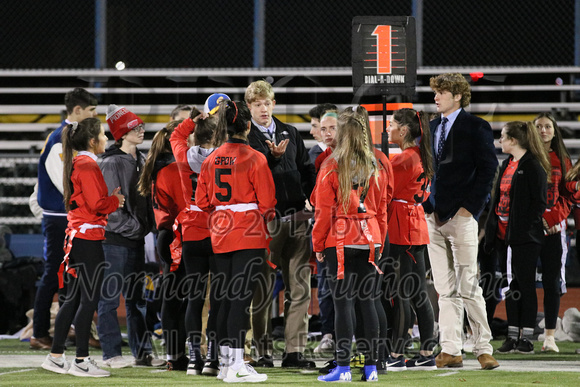 Every year, the senior girls take on the junior girls in a tough game of flag football under the lights at Memorial Field. The girls practice hard leading up to the game with the help of their coaches who are boys in each grade. The game is rather intense and it is a lot of fun to watch the girls battle against one another to the very last whistle. While many senior and junior girls are teammates on the various sports teams at CHS, it keeps the game quite interesting as well. With the help of some volunteer teachers, the game has refs who usually make calls in favor of the senior team. 
With this tradition, the girls get geared up and ready to take on their rival grade level. The coaches, boys in each grade, compete with one another as well as they are dressed in professional attire. The game is designed to be a fun and entertaining way for the girls to play football while the boys get to take on a different role as well. The anticipation of the game begins at the start of each school year and the girls all wear shirts with their grade color and a name and number on their back. 
The showdown is usually a very competitive one, with many athletes in both grade levels. From soccer players to track runners, the game is high speed and sometimes physical. With the assistance of the refs, the senior class has had a winning streak for the last 10 years. With the juniors very excited to compete this year, it is for sure going to be a great game to both watch and play.