NFL Playoff Round 2 Recap and Round 3 Predictions for The Chiefs and Titans:
Henry and the Titans take on Mahomes and the Chiefs in the AFC Conference Championship.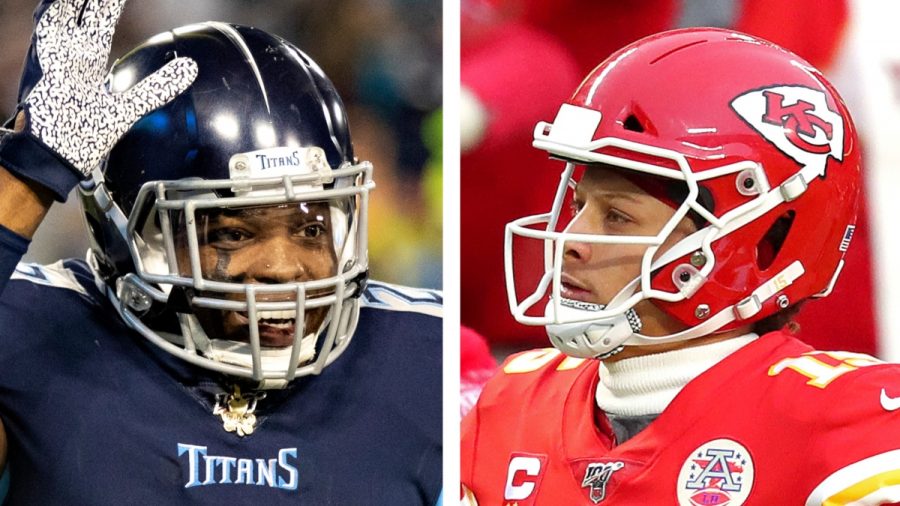 After another wild round of games, only 4 teams remain in the playoffs. Today we will be discussing how the AFC stands after an exciting week and what's to come on Sunday. 
Titans at Chiefs: 
Both of these teams pulled over extremely exciting victories to make their way into the AFC conference championship. First off, the Titans won the way we expected them to behind the NFL's leading rusher Derrick Henry, who had 195 rushing yards and… a Passing Touchdown! Henry being a freak of nature and a couple of trick plays boosted the 9-7 Titans into the 3rd round of the playoffs where they hope to keep the magic alive and Rally against the offensive superpower that is the Kansas City Chiefs. 
The Chiefs first quarter against the Texans was a complete disaster. From blocked kicks to muffed punts, they found themselves in a 24-0 hole. But.. if any team is capable of coming back from such a deficit, it's the Chiefs, and that's what they did. Passing for 5 TDs and handing two to his running back, Mahomes proved why he was last year's MVP and why this team might go to the Superbowl. 
Its going to take another miracle, and this Titans defense will have to be at their best to hold off Mahomes, Kelce, Williams, Hill, and Watkins from another 50 point showing. On the other end, the Chiefs run defense has been anything but great this season, so Derrick Henry could have another monster performance. This game is likely to be another shootout, but the Titans cannot hand the ball off to Henry every play if they fall behind early. They will need to start fast and keep a steady lead while also trying to contain all the Chiefs weapons.  
My prediction heading into Sunday: Final score: 38-27 Chiefs.