Cranford Ice Hockey is Killing this Season
Last night, Cranford won their first round of counties against rivals Scotch Plains.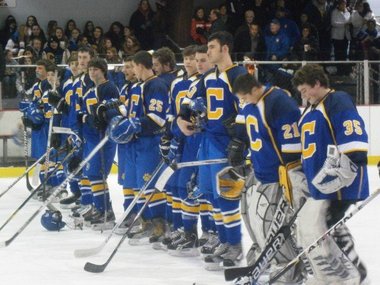 So far, the Cranford Ice Hockey team has been a real threat for opposing players and coaches because of Cranford's determination and physicality. With the season almost halfway completed, the Cranford team has only lost two games. They have also had some convincing wins, one of which being a 6-2 massacre over Scotch Plains.
Both the team and the coaches are excited about the rest of the season, and they all believe a county championship is plausible. Senior player Jack Devaney said, "This team is a family, and I don't think other teams have the same team chemistry that we do. If we keep working and playing the same way we have this whole season, we can win our conference and county." This belief the team has must be working because they won their first round of counties two to zero, despite the all out brawl that ensued mid-game.
Senior Jack Templeton got into a fight with a player on the opposing team. This led to benches clearing and a battle of fists and sticks between the two teams. Luckily, the referees got the game under control and gave out a few fouls on both sides.
This team clearly has the guts and belief to carry out a great hockey season, so I'm excited to see what they bring next. The semi-finals will take place on January 22 at Warinanco Park.