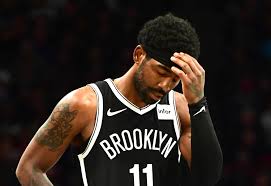 Nets are not listening to outside noise
A team that was destined for greatness this past summer is off to a rocky start this season. The Brooklyn Nets splashed in free agency, signing Kevin Durant, Kyrie Irving, and Deandre Jordan to 4 year contracts to lock up a championship caliber team. Not only did they lock up their Big 3, they signed 10-year veteran sharpshooter Garret Temple to a two year, and pulled off a fantastic trade to acquire big man Taurean Prince. With their rising ball handlers Spencer DInwiddie and Caris Levert, the Brooklyn Nets are being talked about to be NBA Champions in the next three years. 
But, injuries have plagued them to a 25-29 record and sitting as a 7-seed in the weak Eastern Conference. With their two stars sidelined for the season, many NBA analysts are counting the Nets out of being competitors in the playoffs or the rest of the season, but the players have a different point of view. Spencer Dinwidie says, "Many of you guys will count us out for the remainder of the season. Watch. We will shock the world." Dinwiddie is averaging 20.8 points on the season with 6.8 assists, clearly the center and the best scorer on the team. With backup Caris LeVert averaging 16.8 points, this team has a lot more fight in them then the rest of the league thinks. "This shit ain't 2010, we got this don't sweat it", veteran-big man Deandre Jordan told SNY newscast this past Monday. In 2010, the Nets were also quote on quote title contenders with all stars like Kevin Garnett, Deron Williams, Brook Lopez, and Paul Pierce. But, all these players were in their mid-30's, and the NBA quickly realized their defense was easily penetrable. Without making it out of the Eastern Conference Semifinals, they quickly went into rebuild mode just two years after realizing their team was nothing close to title-contenders.
With the NBA championship on each of the players minds, this team is determined to turn the Net's zero championships into at least one, hoping for two. With Kevin Durant sitting out for a year and Kyrie only playing twenty games this year, it'll be interesting to see what the Brooklyn Nets do in the future.