Survive and Advance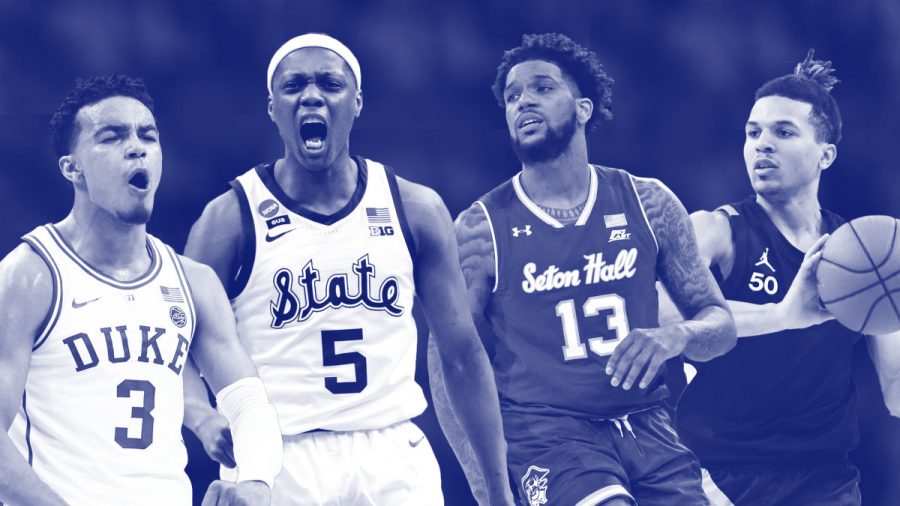 The NCAA basketball tournament is comprised of the 64 best teams in the nation. Every year is full of classics, upsets, and buzzer beaters which is what makes the tournament so interesting. The way that this year's season has been going, we should expect a good amount of upsets. For the first time in history, there have been eight different No. 1 ranked teams throughout the season. This surprising statistic must be kept into consideration for those creating a march madness bracket.
The projected No. 1 seeds for this year's tournament are the San Diego State Aztecs (26-1), the Kansas Jayhawks (24-3), the Gonzaga Bulldogs (27-2), and the Baylor Bears (24-2). With impressive resumes, these four teams basically have the top seeds locked up. Maryland is a projected No. 2 seed with a 22-5 record. They are coming off a tough road loss to Ohio State that is hurting their tournament credentials. A road win like that is what could possibly propel the Terps to a No. 1 seed. Maryland is definitely a favorite to win the championship and would be a safe pick for your bracket. If you are looking for an underdog/upset pick, on the other hand, the Louisville Cardinals seem to be the team this year that could make an unexpected run. Louisville was cruising as a top 5 ranked team almost all year until they suffered back to back losses against unranked opponents. They now sit at No. 11 in the rankings and many bracketologists are looking past them to make a run this year. 
Anyone who follows the March Madness tournament knows that the higher ranked team is never guaranteed to win. High seeds get upset every year, and predicting these upsets can make the difference in winning or losing your bracket. With that being said, here are my top two unexpected teams to make a run this March.
Number 1: the Penn State Nittany Lions (20-7). Penn State has always been known as a football school, however this year, Penn State basketball is changing the narrative. With impressive wins over ranked opponents such as Maryland, Iowa, and Michigan State, the Nittany Lions have built up a strong case for success in this year's madness.
Number 2: the Indiana Hoosiers (18-9). Despite a tough road record of 2-6, the Hoosiers have begun to turn their season around, winning 4 out of their last 5 games including a home win over the then No. 9 ranked Penn State. Indiana is a known basketball school, and with the legendary former coach Bob Knight returning to campus for the first time in over 20 years, there is an ecstatic thrill around the team and fans that set them up to go deep this year.
Expect the 2020 tournament to be full of upsets and classic games. Keep these teams in mind when creating a bracket in the coming weeks.