Cranford Lacrosse Looks to Continue Their Success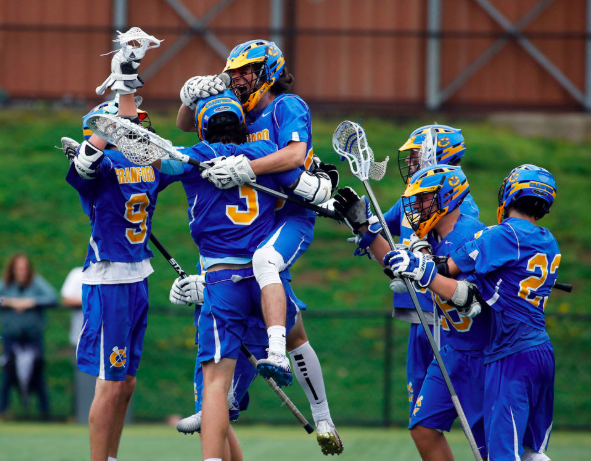 Cranford High School Lacrosse has an unbelievable season in 2019, achieving a record of 17-3. They also had an impressive run in both the union county and state  tournament before falling to Westfield 13-6 in the semifinals of the county tournament and to Chatham 13-6 in the section semifinals. This success was led by leading scorers Cole Blazek, Dante Cassaro, and Conor Halpin. Senior Conor Halpin  netted a remarkable 62 goals along with 12 assists. Senior Dante Cassaro also had an unbelievable year, scoring 42 goals and having 21 assists. Junior Cole Blazek also had a strong year scoring 35 goals and assisting 12. Captain Cole Blazek now looks to take over as the team's leading scorer with help from seniors Mike Kalnins and Liam Loughlin. Mike plays attack and is coming off a strong season with 13 goals. Liam is now the leader of the defense and had a tremendous season was considered one of the top juniors in the state. Another player who is expected to have a great season is junior Nate Caldwell who had an impressive 30 goal sophomore season.
Although Cranford does have several returning players they will need a few guys to step up to have the success they want this season. Some players that are expected to fill these roles are Junior goalie Matt Coates and Sophomore Jake Icklan. Matt Coates had an impressive season with jv last year and performed well in the limited varsity time he had. He hopes to step up for his team this year as their previous goalie, Phil Marotta, has graduated. Coates is no stranger to varsity sports, however, as he had a very impressive season this fall, starting every game at middle linebacker for the football team. Jake Icklan also hopes to help his team this year where he is expected to have lots of varsity playing time after a tremendous season on jv last year. Like Coates, Icklan is also used to the pressures of varsity sports as he is on both the soccer and ice hockey teams here at Cranford High School.
All in all, the lacrosse team looks to build off the success they have had the past few years and they most definitely have the talent to do so. Another great season is expected out of this team and no one would be surprised if they were able to bring home some hardware this season.