The Road Back To Glory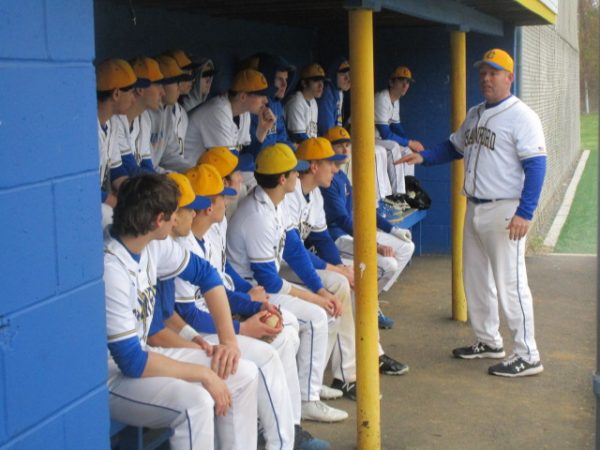 A balk ended the Cranford Baseball Season last year, and they are hungry for more this upcoming season. 
Coach Dennis McCaffery and the Cranford high school varsity baseball team are just one week away from jump-starting the 2019-2020 baseball season. They are seeking five championships in the conference title, county title, sectional title, group title, and state title. No team in recent history has completed such a task under McCaffery. 
After a disappointing finish to the 2018-2019 baseball season, the varsity baseball team looks to bounce back for this upcoming season and make a run for a fifth state championship. Although the Cranford baseball team won their respective Watchung division, they came up short in both the county and state tournaments. They fell to a fundamental Summit team 3-2 in the Union County Tournament quarterfinal and a red-hot Somerville squad 2-1 in the quarterfinal of the State Sectional Tournament. 
The torch will be passed down from Jimmy Shriner to the hands of Aidan Plick who finished the season with an outstanding .377 batting average. The team turns to Plick to lead Cranford to their first  state championship appearance since 2017. However, Plick is coming off a torn ACL, MCL, and meniscus but did recover in just 3 months time. This injury did not seem to affect Plick much at all as he returned for the back nine of his senior hockey season and expects to be 100 percent come March sixth. 
With the stellar starting rotation that graduated this past June in Jake VanDam, Kevin Donovan, Jeremy Ruka, and Jack MacAleavey, coach Chamra must now turn to the arms of Jack Jarosz, Joe Carrea, and Rob Salvatore to carry the defense back to glory. Although these young arms do not have much experience, they were developed and perfectly set up for greatness throughout the years. Appearing in a game or two here and there for each pitcher, they seem to be more than ready for this upcoming spring season. 
Cranford's defense has always been the best part of their game ever since the 2017-2018 season, with DiClerico and Murphy leading the group. They are both flashy players and always turn heads. Whenever the team needs someone to make a play, DiClerico and Murphy are the ones that make that momentum-shifting play more often than not. With a hole in right field, these two play makers will have a far greater role in the upcoming season to help lead the cougars to another state championship victory.
Cranford will face off against Scotch Plains-Fanwood on April 1, 2020 to kick off their 2019-2020 season.