Harry Devenny's Record Setting Season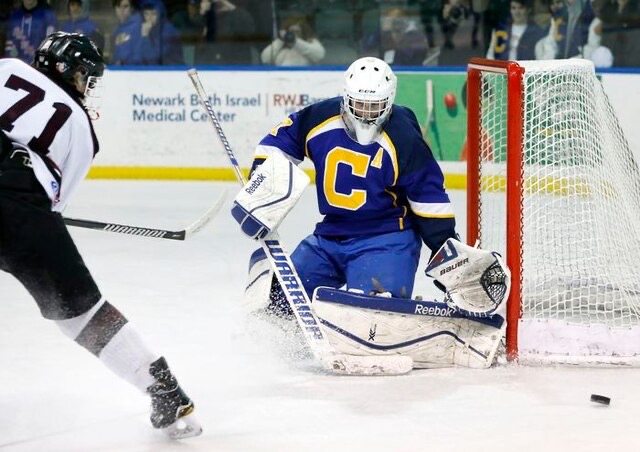 Senior goalie, Harry Devenny, has virtually been a brick wall in his final season for the Cranford High School ice hockey team. Posting a .917 save percentage and recently winning the Kelly Cup for the first time in school history are among many accomplishments that Devenny has achieved this season. 
Harry has been the starting goalie since his freshman year and he has improved greatly every year since then. He has helped lead Cranford to 10 playoff wins over the last four years and before his senior season he was named assistant captain, a true leader. 
Cranford's recent senior night 5-0 victory over Watchung Hills was arguably the most historic moment of the season so far as Devenny recorded his 1,500th save, a school record. No other goalie in school history has come close to touching this milestone and Devenny hasn't only reached it, but he's skated right past it as he now has a total of 1,624 saves heading into the first round of the NJSIAA Public C state tournament. When asked about Devenny's milestone he simply replied, "I'm proud of what I have achieved but my job is not done yet. We won the first Kelly Cup in school history and we are looking to bring home state. The locker room is buzzing right now."
Clearly Devenny has a team first mentality and it might just help boost the Cougars to a huge upset against second seeded Lakeland on Friday night. While many schools rely on a top line of shifty, fast, soft hand, and good shot players, Cranford has been a hard working and physical hockey team which seems to be a thing in the past. It has negatively affected them at times when penalties don't seem to be going their way, but in the long run it sets them apart from everyone else and wears down their opponents by the third period every time they hit the ice. Devenny and the ice cougs have been rolling lately, but the job is not done yet as the hard working seniors look to write their name in the history books just one more time before graduating in June.