TV Review: Zoey's Extraordinary Playlist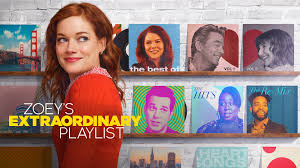 If you are struggling to find a TV show to binge-watch during this quarantine, consider giving Zoey's Extraordinary Playlist a try. It's a new NBC comedy-drama about a brilliant coder Zoey (Jane Levy) who works for a tech company in San Francisco. After an earthquake occurs while getting an MRI scan, she can suddenly hear people's innermost thoughts– but the catch is that she can only hear those thoughts through song. 
In the pilot alone, Zoey discovers that her work crush Simon (John Clarence Stewart) is struggling with the death of his father, her best friend Max (Skylar Astin) is in love with her, her oh-so-helpful coworker Leif (Michael Thomas Grant) is actually her rival, and her boss Joan (Lauren Graham) is extremely unsatisfied– all through vivacious song and dance numbers. Basically, Zoey's new power turns her life upside down.
However, there is a silver lining to Zoey's power. Because of it, she and her music-loving neighbor Mo (Alex Newell) develop a newfound friendship and Mo decides to help Zoey navigate her new power. Plus, Zoey realizes that she now can hear what her father Mitch (Peter Gallagher) is thinking again since he has been recently incapacitated due to a neurological disease.
The star-studded cast is truly what gives the show its heart and soul. The dance numbers are fun and well done and it's clear that every cast member devotes all of their efforts into this show. Jane Levy is phenomenal as Zoey. She brings a lot of energy and makes Zoey the loveable yet awkward goofball that she is. Plus, it doesn't hurt that the cast is full of musical veterans with Astin previously starring in Pitch Perfect, Newell in Glee, and Gallagher in Guys and Dolls on Broadway.
Despite all of the comedy and impressive theatrics, Zoey's Extraordinary Playlist has also mastered the heartwarming moments. Whether it be when Zoey hears Mitch sing to his family or when Mo opens up about his struggles with his gender identity, this show knows how to make you cry just as much as it can make you laugh. So, if you're in need of a new show to watch, be sure to check out Zoey's Extraordinary Playlist.
Zoey's Extraordinary Playlist airs Sundays at 9 pm EST on NBC and is streaming on nbc.com.