2020 NFL Draft Preview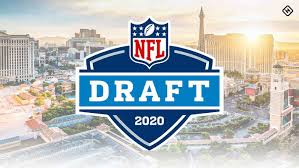 The NFL Draft. The biggest part of the NFL offseason. And due to the current lack in sports entertainment due to Covid-19, the NFL Draft is the largest event in all sports. The NFL Draft was supposed to take place in Las Vegas, but will be moved to a studio due to the virus breakout.  This incoming draft class has a ton of talent. The defensive end from Ohio State, Chase Young, is a generational talent. The Clemson linebacker/ safety, a do it all kind of guy, with an incredible combine performance, Isaiah Simmons. A former national champion quarterback heisman runner up Tua Tagovailoa. And the Heisman trophy winner, national champion and projected number 1 overall pick Joe Burrow. It is safe to say that this draft will be an exciting one.
The Cincinnati Bengals need a lot of help, but they have the best player in the draft to change their franchise. Joe Burrow will be a Bengal, "Geaux Tigers", LSU coach Ed Orgeron. The Washington Redskins are reportedly trying to trade down in the draft to get more value because they believe that Simmons will fall wherever they trade down to. In the case they do not trade the second overall pick they will take Chase Young from Ohio State. The Detroit Lions are also reporting to trade down to the 6th pick and swapping with the Chargers. In the case they don't trade the pick they will take Jeff Okudah, cornerback from Ohio State. The New York Football Giants NEED a linebacker and the best one in the draft and one of the best prospects overall is staring them in the face, Isaiah Simmons will be a Giant. The Miami Dolphins are in need of a quarterback if the Chargers do not trade with the Lions then Miami will get Tua Tagovailoa, however there is still talent at the quarterback position if the Chargers trade in front of the Dolphins. The Dolphins will select quarterback Justin Herbert from Oregon if the Lions trade down. The Lions get Okudah either way. Is trading up for Tua the answer for the Chargers or sitting on Justin Herbert the answer.