Ghost Town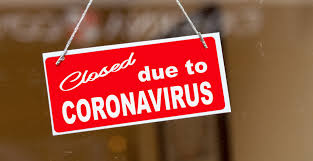 The coronavirus pandemic has made an impact on just about every aspect of life. It has made an impact on the economy, social life, and the well being of people. In Cranford for instance, schools have been closed and residents must practice "social distancing" and self-quarantine. Businesses must rely on curbside pickup and delivery as a statewide curfew has been issued by New Jersey Governor Phil Murphy. 
Schooling has been moved completely online for students. Teachers post the assignments for the week on Google Classroom and students are able to complete and submit the assignments all through the internet. This is a time we have never experienced before. Most standardized tests like the SAT and ACT have been canceled, and AP Exams are now optional 45-minute online tests. Coronavirus has forced the indefinite closure of schools, however the school system has been able to adapt to maintain a steady learning environment through technology. This is the most important thing to realize about this crisis: we need to adapt.
Local businesses in Cranford have had to adapt by only supplying curbside pickup and delivery for their customers. Restaurants have been able to change for this new way of service, but other businesses not in the food industry must use other ways. Yoga studios, for example, have started to do online video classes so customers can participate at home. Many other businesses like this have used different methods to adapt to the changes that coronavirus has caused. 
The biggest impact that coronavirus has had on me is the quarantine. Life is not the same, obviously, as we are instructed to stay inside and away from other people to reduce the spread of the virus. I have had to find other things to do at my house to fill my day. I usually start my day doing some homework and I have spent a lot of time working out and playing video games. This is the third week of quarantine and I believe it will go on for at least another three weeks.  As we see all of the businesses and schools around us adapting to the changes that are happening, I think we all need to take a step back and figure out how we can better ourselves during these challenging times.