The Importance of Social Distancing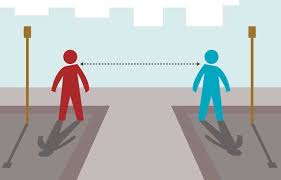 Social Distancing, by definition, is measures taken to prevent the spread of contagious diseases. At this point, most of you may know that the coronavirus, or COVID-19, affects around 25% of the population. To stop the curve, we need to learn how to social distance, and we need to do it soon.
Social distancing does not mean you can hang out with one or two friends, it means you have to stay in your house, with only your family. You may think that seeing one friend is fine, but that one friend may be seeing two friends. So now, you, your friend and his or her two friends are exposing each other, but each other's families. It may not seem like a big deal, but one person can stop the spread to so many people.
As for Cranford seniors and other high school seniors in general, we need to play a more important role in the encouragement of having others social distance. If we do not encourage everyone to stay home, we will not get the second semester senior year we deserve. Our Fashion Show and Lock in were already canceled, and many of you lost the chance to play the last season of your sport, the one you trained for for years. We could miss so much from our year. Things like the Senior Scavenger Hunt, Prom, Prom Weekend and even graduation. 
In my personal opinion, I want all of those things. I do not want "Press SPACE to Receive Your Diploma". I do not want everyones prom dresses to sit in the bags that they left the store in. I want the senior year we deserve. The senior year we waited for since entering the Cranford School District. The senior year that many graduating classes got before us. The senior year we waited 12 years for. 
Below, there is a video. The video physically shows how social distancing works. The idea of slowing the curve and the spread of COVID-19 may be complex and a hard concept to grasp. But, the animated video explains the idea of what social distancing will do for the nation. Watch the video. Stay home. Social Distance.