CHS Computer Club Hosts Midnight Gaming Event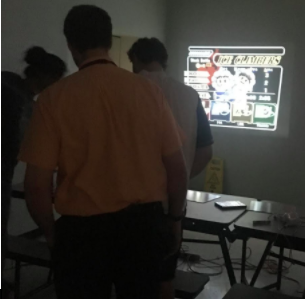 Mikos Panagakos, Writer
April 23, 2018
Hang on for a minute...we're trying to find some more stories you might like.
Last year, the school's Computer Club hosted two Midnight Gaming events, both having a plethora of board games to choose from.
This past Friday the 13th, however the club decided to do something a little bit different: instead of board games like Monopoly, Settlers of Catan, and Connect Four, the night was entirely digitized. The small cafeteria was lined with projectors and tv screens playing a wide variety of video games. On top of that, the club held a raffle with technology-related prizes.
On one end of the room there was Super Smash Bros. which multiple tournaments were hosted for. There were two Raspberry Pis, which are small programmable computers, both running old arcade games such  as PacMan, Donkey Kong, and Contra. For Donkey Kong and PacMan there was a high score list, and at the end of the night the player with the highest score earned an extra ticket for the raffle. One attendant thought that "having both newer games and older retro games made for a variety of experiences for both students and adults. "
There were a lot of exciting moments throughout the night at all of the different stations. About 30 mins before the night came to a close Mr. Bell attained the highest Donkey Kong score by doubling the previous best. This was a particularly impressive feat, as the game is known to be very unforgiving and difficult to master. The laptops brought out the worst of people when everyone was working against each other in Town of Salem.
However, the loudest section was definitely during the Smash Bros tournament in the final rounds as almost every match was a heated back and forth. All in all the event went smoothly and it is best described by Tommy Delmor, who proclaimed that "the swap to digital was a refreshing change and gave it a unique experience."