CHS Writing Center Offers Opportunities for Tutoring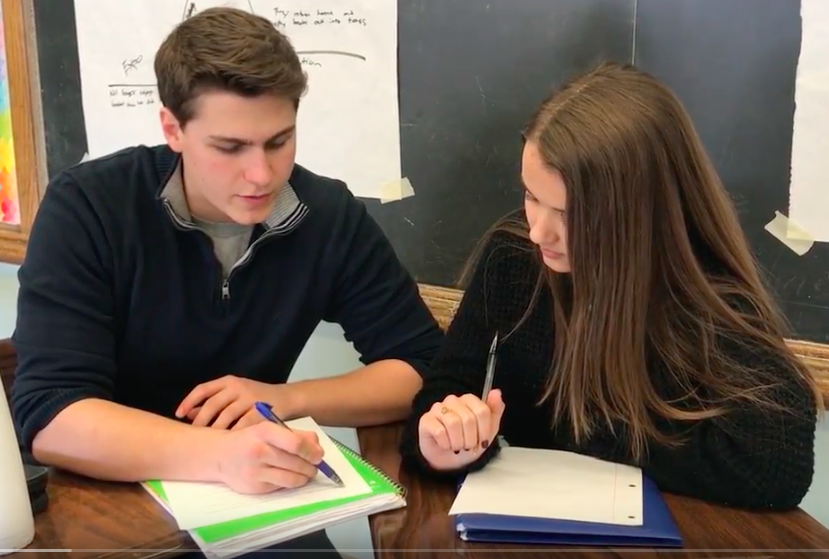 Jack Carroll and Val Ambrosio
May 7, 2018
English teachers of Cranford High School have teamed up this year to take advantage of the new block Ms. Conter,  Ms. Hilborn, and Mrs. Shaw helped started the new writing center because they saw it as an opportunity which would allow underclassmen to learn from tutors and to get help on specific essays and English papers they are writing. This writing center, which can be found in the library, is beneficial not only for the underclassmen getting help, but also for the tutors, comprised of juniors and seniors handpicked by the English staff. Ms. Hilborn stated that the "tutoring sessions aren't for editing, but more for students to learn different concepts to advance their writing."
Working in the Writing Center gives the junior and seniors experience tutoring real students and enables them to pursue tutoring in college, a high-paying job on most campuses. The tutors were trained in class during the first semester by Mrs. Shaw, and are now refining their craft with Ms. Hilborn. Along with preparing in class, the tutors took a field trip to Rutgers, where they learned more strategies for tutoring and got individual training from professors.
The director of the writing center, Ms. Conter, is responsible for arranging these tutor sessions. She started an online platform, called WCOnline where students can sign up for a tutor of their choice at a specific time. The Writing Center is open on Tuesdays, Wednesdays, and Thursdays. Time slots are available in the morning, during the first half of lunch, and after school. A freshman named Yassir told me that he went to the writing center for his time about two months ago because he was given extra credit, but he found the session so helpful that he's been going again and again ever since. He also plans on going this week as him and his freshman class gets ready to write papers on Romeo and Juliet.
Freshmen and sophomore students who are in scheduling an appointment with a tutor should go to https://cranfordschools.mywconline.com/ to create an account.