The Pizza Man: Getting to Know Vinny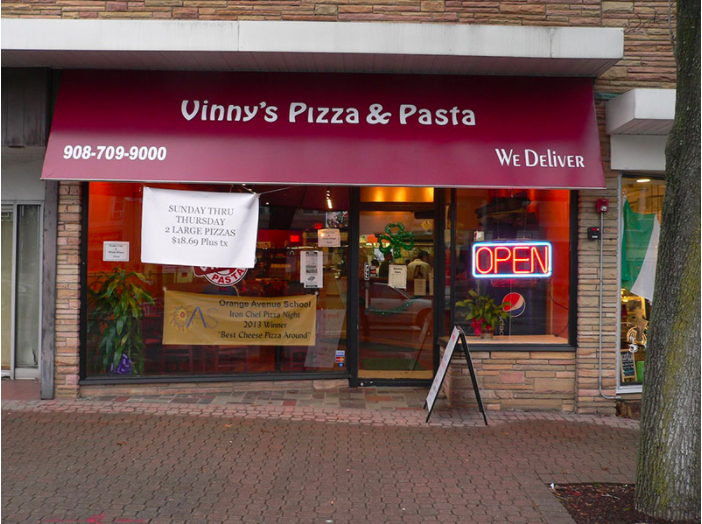 Niki Savinelli
May 14, 2018
 You may have heard my dad's name before.
I don't mean that in the conceited, my-dad-is-better-than-yours way; but it's not common for your dad's name to be on a sign downtown, either.
My dad, Vinny, has always loved the art of cooking. He would spend hours working in the kitchen with my Grandpa, making and learning all sorts of dishes. My Grandpa lived in Italy his whole life before coming to America. My dad would always tell me the love my Grandpa had for cooking. He would make different kinds of pizzas, pastas, salads, desserts, and even seafood. As time went on, my dad learned to love the practice just like my Grandpa and decided to pursue it as his career: a chef.
The first restaurant Vinny owned was an Italian restaurant called "Il Giardino" located in Cranford, New Jersey. From there, my dad moved around a lot, not because the restaurants weren't successful (because they were), but because every single placed he owned did not feel right to him. After Il Giardino, my dad owned La Piazza in Martinsville, S&G Deli in Union, Vincenzo's Trattoria in Martinsville, and now Vinny's Pizza & Pasta in Cranford.
Coming back to Cranford to cook was such an exciting moment for my dad and family. My dad is well known in the town, so many customers were eager to stop into Vinny's Pizza & Pasta. Vinny was able to hire a reliable and talented staff in a heartbeat. Not only do average people work there, but our entire family as well. People love the fact that Vinny's is a family business because it makes the atmosphere more comfortable and home like. Everyone is so kind and generous, the food is amazing, and the service is very efficient. Working and dining at Vinny's is a wonderful experience, and my dad hopes that others will stop by to come in.