Come See the CHS Performing Arts Academy Stage Curious Incident!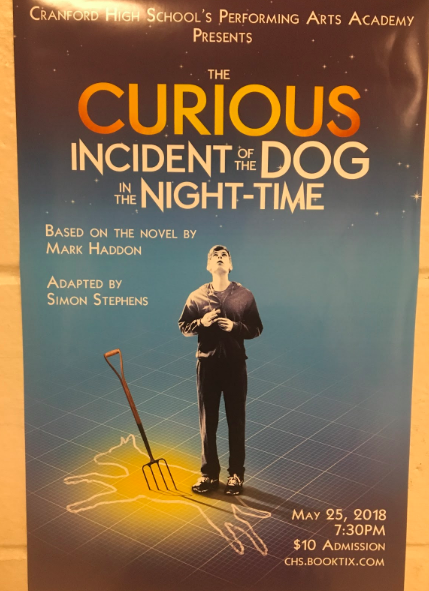 Hang on for a minute...we're trying to find some more stories you might like.
The Curious Incident of the Dog in the Night-Time will hit the CHS stage on Friday May 25. House will open at 7, and the show will begin at 7:30.  Admission is $5 for students, and $10 for adults. Tickets can be purchased at chs.booktix.com, and it is reserved seating.
The showcase stars Andrew Gordon as Christopher, Sophie Zacharda as Siobhan, Noah Wohlsen as Ed, and Nora Sullivan as Judy, and includes the talents of:Pria McNeil, Matt Mallick, Haley Baranowski, Sullivan Grace, Max Wisnefski, Makayla Cartnick, Sam Clark, Katrina Wischusen, Kelly McMahon, Laura Salway, Alexa Bobko, Amanda Andujar, Mel Gabel, Kyra Goga, Marisa Lijoi, Katie Manhardt, Anna Kalafatis, and Brian Nigro.
The Dramatists Play Service describes the play: "15-year-old Christopher has an extraordinary brain: He is exceptional at mathematics but ill-equipped to interpret everyday life. He has never ventured alone beyond the end of his road, he detests being touched, and he distrusts strangers.Now it is 7 minutes after midnight, and Christopher stands beside his neighbor's dead dog, Wellington, who has been speared with a garden fork."
"Finding himself under suspicion, Christopher is determined to solve the mystery who murdered Wellington, and he carefully records each fact of the crime. But his detective work, forbidden by his father, takes him on a thrilling journey that upturns his world."