Feature: The Voice of The Cougars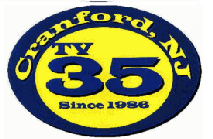 Jack Carroll, Writer
May 29, 2018
In 2017, junior Cranford High School student Tom Gilmarti, finished his third season of broadcasting for the Cranford Cougar football team. This past season he covered the games along with Mr. Plick, Mr. Kelly, and Jackson Larabee. Tom provided fans with his own brand of color commentary, while Mr. Plick announced the play-by-play.
Tom told me that prior to games he researched on his own stats and rosters of the players on each team. He often would ask players on the team thoughts about the games and even what was going on in practice.Tom had previous experience with communications, starting back a few years ago when he was broadcasting his brother's 10u Cranford baseball tournament. At the tournament, Mr. Plick approached Tom and asked him to join him on TV 35 to broadcast the home football games. Tom enthusiastically accepted, even though he was unaware that Mr. Plick even worked with TV 35.
Tom has had much success and popularity from broadcasting on TV 35. He even earned the nickname "Tommy Football" from students, owing to his wealth of knowledge and dedication to his craft.  Tom has even caught the eye of Bob Wischusen, a Cranford local who is the voice of Jets and an ESPN college football and basketball broadcaster. Tom describes Mr. Wischusen as his broadcasting idol: Mr. Wischusen reached out to Tom during his first year of broadcasting and gave him some wonderful advice.
He hopes to go to Syracuse and potentially pursue broadcasting as a possible career. Tom will defiantly be back his senior year for his last year broadcasting Cranford football as a student.