Cranford High School Masterwork Concert Brings Musicians Together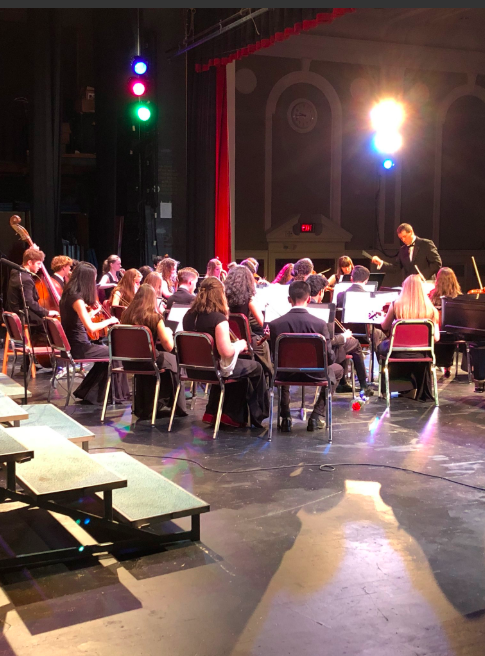 Christian Malamug, Writer
June 4, 2018
Thursday, March 31, 2018, marked the night where the orchestra and choir united to produce beautiful music in absolute harmony. But with all of these new changes in the performing arts department, this year was the first year that Meghan Magnus, choir director, and Daniel Chernosky, orchestral and band director, conducted for the Masterwork concert. In addition, it was the first year that Anthony Rafaniello, new supervisor of fine and performing arts, conducted the choir and orchestra in the last piece. That special night was dedicated to Leonard Bernstein, American composer, because he turned 100 years old this year. For those that are unfamiliar of Bernstein's work, he was the man who composed the "West Side Story" music.
The first half of the program consisted of orchestral music. The pieces were "Andante Festivo" by Jean Sibelius, "Toccata" by G. Frescobaldi, "Prelude On An Early American Folk Hymn" by Claude T. Smith, "Vivace" (Movement 1) by Joseph Haydn, and "Allegro" (Movement 1) by W. A. Mozart. But to add some spice, if you will, there were concertos for piano and orchestra. Anthony Rafaniello played the piano and Karen Mockoviak played the clarinet. Towards the end of the first half was the senior recognition. Fletcher Berglas, Kat Stochel, Jenna Kettler, Alex Gee, and Sofia Martinez will all be leaving the orchestra next year. Congratulations to these senior graduating orchestral artists!
The second half of the Masterwork concert was the choir performance and dedication of Leonard Bernstein. The women sang and acted out "I Feel Pretty" with their phones in their hands and taking selfies. Then the men really humored the audience with "Officer Krupke" featuring several soloists. Right after, there were three solo performances: "A Boy Like That" by Pria McNeil, "A Boy Like That" by Kelly McMahon, and "Maria" by Noah Wohlsen. Next, the Madrigals choir emerged from the risers and sang "Somewhere". Lastly, the orchestra and Concert Choir performed "Make Our Garden Grow" from the Candide operetta.
To me, this concert was a successful night in bringing two different musical groups together and dedicating our performance for an amazing composer, Leonard Bernstein.