Should Kneeling During the National Anthem Be Allowed?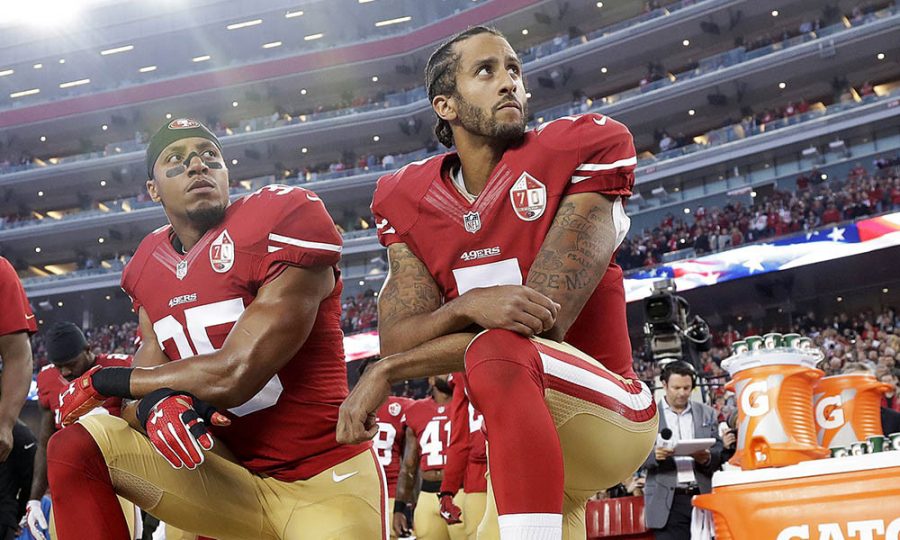 Michael Meola, Writer
October 29, 2018
Ever since 2016, when Colin Kaepernick decided to kneel for the National Anthem, the NFL hasn't been the same. Everyone from fans to owners have weighed in creating a divide that has grown immensely. People that support Kaepernick express that they kneel to protest the oppression of minorities in America, while people opposed argue that it's disrespectful to the country and what the flag represents.
The NFL has a "freeze" on policy regarding the National Anthem until a plan can be instated. NFL Commissioner Roger Goodell has been frantically trying to find a solution to appease viewers, and this begs the question: should kneeling be allowed?
Football, arguably America's most popular sport, is causing a country-wide divide due to this issue. Football is meant to bring America together, not tear it apart. Many believe that social protesting has no place in sports. This is evident in how the fans are reacting to it, ratings have gone down and people are frustrated. With this logic, the best way to approach this situation would be to eliminate kneeling. Gregg Doyel, of USA Today supports this when he writes, "A seemingly unshakeable football fanbase – Unaffected by… domestic violence, even murder… made kneeling for the anthem the hill upon which they were willing to let their NFL viewership die". The NFL has some of the most die-hard fans in all of sports, so when something causes them to stop watching, there is likely a problem. Rich Meola, NFL fan, agrees with this argument by saying, "They (players) can make social issues apart of their personal life… like Muhammed Ali did… but not during games because there's a time… for everything, and that's not the time". Football is meant to be entertainment, and many fans, like Meola, believe that these protests have no place on the field.
Although kneeling is causing a divide in the country, athletes argue that they should be allowed to have a voice in all issues. The argument that kneeling is disrespectful to soldiers has been debunked by multiple athletes saying that they have no ill-will towards the armed forces. Although some fans discourage kneeling, many fans, like Jack McAleavy, have no problem with it because according to Jack, "I am not offended… because they aren't insulting me personally". Not even veterans are opposed to kneeling for the anthem. In fact, it was a veteran that came up with the idea for Kaepernick to kneel. According to Chris Korman of ForTheWin.com, "It was (Nate) Boyer… who suggested Colin Kaepernick kneel during the National Anthem…". Boyer is a Green Beret and a former NFL player, and if he and others have no problem with kneeling, why should we?
Although many people on this issue have a strong opinion, there are others who don't have a clear side. They believe that they are within their rights and it should be allowed, however organizations shouldn't endorse this. One such person is NFL fan, Brendan Hanlon, who says, "The athletes are human beings and they can make that decision for themselves, but the organizations… shouldn't correlate with social issues". Hanlon implies that although the athletes should be allowed to protest social issues, he doesn't think doing it on the field is the most respectful and effective way.
The debate has raged on for years now and there's no end in sight. One thing's for sure though; people just want football back.