CHS Girls Varisty Soccer: A Historic Season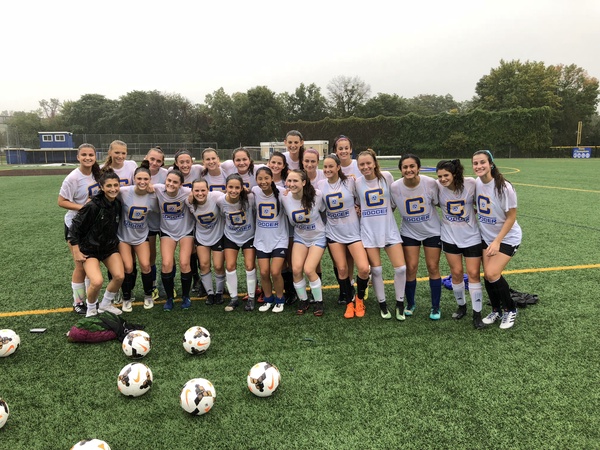 Hang on for a minute...we're trying to find some more stories you might like.
The Cranford High School Girls Varsity Soccer team has had an extremely successful season. With all of their regular season games completed, the team finished with a 15-2 record, a conference championship title, and even the success of breaking Westfield's 42 game streak of wins. The team then faced Scotch Plains in the County Finals on Friday, October 26th at 6 PM at Kean University. This was the first time in 5 years that a CHSGVS team had played in the county finals, and 9 years since the 2009 CHSGVS team won the County Championship. For the past 9 years, Scotch Plains had been county champions, and this year they defended their title. But, Cranford had been focused and preparing for this night since their pre-season in August, to bring the county championship home.  Senior captain Grace DiGiovanni believed that "If our team comes out and plays the way we know how to, and to the best of our ability, I have no doubt that we will win the county championship, and even a state title".
On Friday night, the girls came out to play. The heart was on the field, yet the scoreboard didn't read the same. The game ended in a 2-0 victory for Scotch Plains. After all of the tears were shed onto the field, CHSGVS was determined to never experience this feeling of defeat again. After being asked about the game, Coach Gagliardo explained that "I think we played hard on Friday. I think Scotch Plains worked a little harder, which was surprising to us. I think we did have some chances we could have put away, which would have flipped the switch for us. But, when a door closes another one opens, so I hope we have a good in the state tournament, and bring home some hardware. We will not let one defeat define us."  
This week, the team plays in their first round of states, where they hold a spot in the 2nd seed of their section, out of 16 varsity soccer teams. The team's next practice was as if they had won the finals, with all of the girls determined and working hard. Assistant Coach Brechbiel explained that "We earned our two seed through our hard work throughout the season, gaining home field advantage in combination with out talented team, I think will be beneficial with us as we take one team at a time". This mindset is the same across the team, as the all of the girls believe that their historic season is not coming to an end anytime soon, and they're planning to put up a good fight in the state tournament.