CHS Art Club's Mosaic Project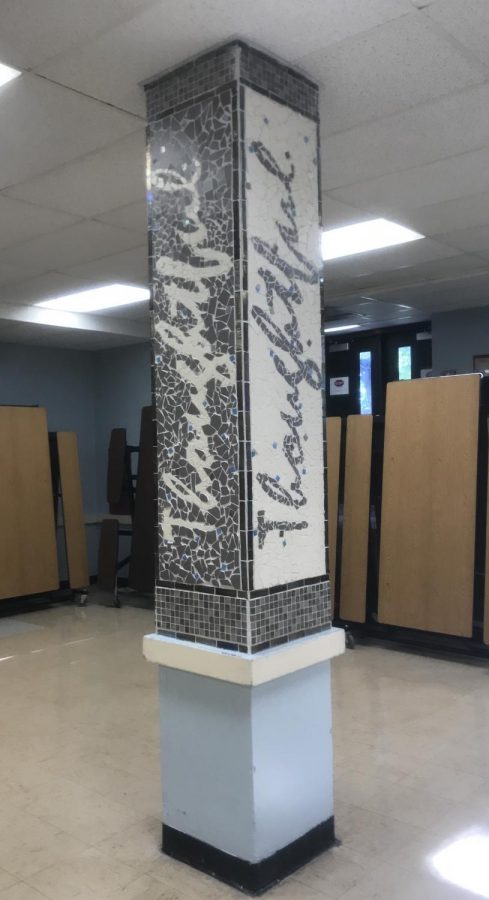 Catherine McMullan, Writer
November 5, 2018
Do you like art? Making mosaics? Creating permanent works of art in the school?
If you do, join the Art Club in the large cafeteria every Tuesday at 3:00 PM.  The club is inclusive to all students who wish to take part in the large project, which has already been in progress for over a year.  Students are able to work together to create giant mosaics on all of the pillars in the cafeteria; this project will stay in the cafeteria for years to come.  
Ms. Barkin (A206) and Ms. Knego (A207), organizers of the club and art teachers at CHS, not only encourage students who have a passion for the arts to join, but also those looking to gain a unique skill.  A beneficial aspect of the club is that students can join year round, as there is plenty of work to be done!
The group has completed the first pillar in the far corner of the cafeteria following a very labor intensive process.  "There is a lot to be done, making mosaics is tedious, especially when configuring the tiny tiles in order to spell out the large words on the pillars," said Ms. Knego.  Although Ms. Knego is excited to oversee the course of the project, she knows that "it will look fantastic when it is fully completed."
The club plans to paint the bottoms of each pillar when the mosaics are completely finished, which will tie the entire project together cohesively.
If you are interested in attending Art Club meetings, do not hesitate! Your creativity and time will help complete this beautiful project.