Opinion: Track 5 Coffee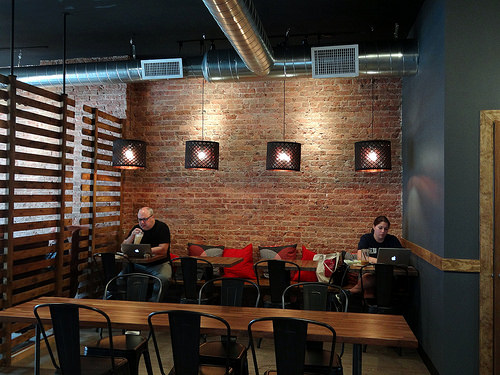 Tatum Snover, Writer
November 26, 2018
Previously known as Rockin Joe's, Track 5 Coffee is the place to be in downtown Cranford. Rockin Joe's began as a small town coffee shop that middle aged people went to. Over the years they wanted to grow their business and they decided expanded into the old antique store next to them to grow their business.
The coffee shop is very successful and Track 5 always has a long line for you to think about what coffee you want.  A young man from Mount Arlington, NJ states " We gladly drive 10 minutes past several other coffee shops to get our fix at track 5.  Friendly, fast, delicious." Everyone enjoys the self confidence boosting workers and the pastries that melt in your mouth. I have never really been crazy about coffee but this coffee is so creamy and you can tell it is made properly and with lots of care and love.
Track 5 has not only expanded their coffee shop, but their menu as well. I've be an honorary customer for years and they use to just serve small pieces of cake and chocolate-chip cookies but they have now widen their horizons and sell new and different foods. I have turned many of my friends on to their simple, basic coffees and yummy monkey bread. Track 5 coffee is a quiet, peaceful place to open up your computer and write an essay while having a treat and a drink to keep you awake. I drink an Irish Gig coffee every morning to make me feel wide awake and energized. Even looking at the outstanding Yelp reviews attracts more customers.
It is a welcoming place to make yourself comfortable and productive for a few hours. The staff does a great job of making sure everyone is tended too and even makes time for small talk with most of their customers even though there is a long line. They never seem under pressure or in a bad mood. It is a great environment for coffee and a treat.