Overview of Cranford Gymnastics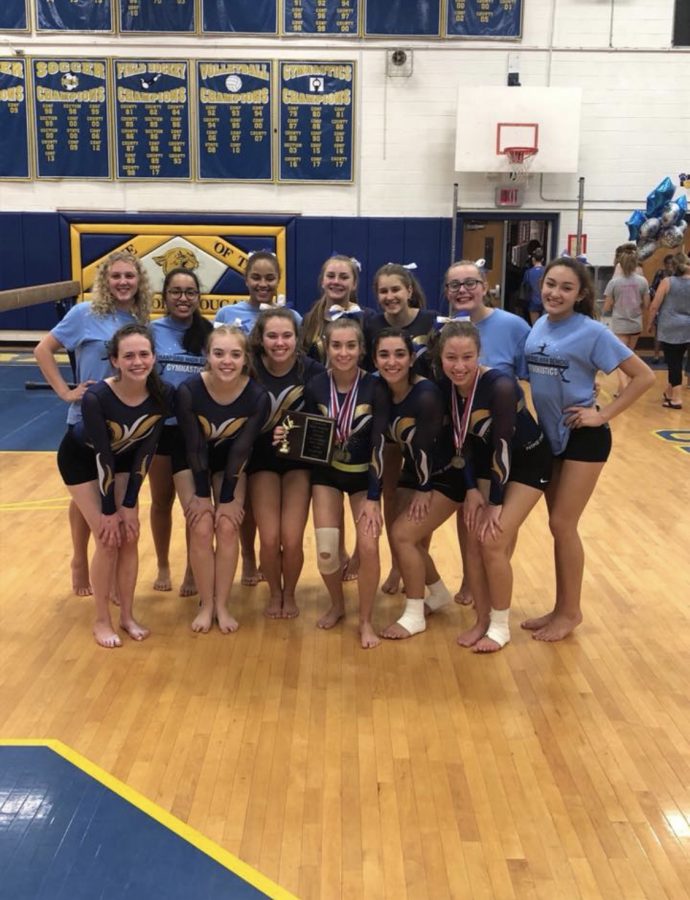 Bee Iosso, Writer
December 10, 2018
Over the course of the last four years, the Cranford High School gymnastics team has improved their performances throughout each season. As the senior classes final season comes to an end, they leave making history. The graduating class including members Erin Infante, Bee Iosso, Jen Kosty, Maddy Larrabee, Gabby Markase, and Kerry Pollack, have been undefeated for four consecutive seasons, and won four conference titles. As impressive as this is, they have also broke the school record for highest team score four times, and hold the most recent record of a 110.375.
In the article, "Cranford Wins Third Consecutive Cougar Invitational," by TAPINTO Cranford Staff, shows Cranford gymnasts joining other athletes as the only three time champions of this competition. When the Cranford gymnasts won their first County Championship in 2016, this shocked all the competing teams, especially Westfield, who refused to go up and receive their second place award. The persistence and dedication the Cranford gymnasts have continued to keep up, has enabled them to be so successful throughout all of their competitions.
The secret to Cranford gymnastics success throughout the last four season owes its credit to how hard these athletes have worked during their season. Four year varsity winner Maddy Larrabee shares, "During the high school season, the majority of us also train at our club gym. We attend an additional three hour practice after our high school practices, and also attend these extra practices after our competitions." During the fall season, these athletes never see an off day. They are at the gym regardless of if there is school that day, or disruptive weather conditions.
What is it like to view the gymnastics meets from the stands? Fan Gina Ricardo comments, "The competitions are cool to watch, and everyone seems passionate about their performances." Gina is not wrong in saying these athletes are passionate about what they do. The determination of these athletes is important to recognized throughout their performances.
Assistant coach Mike Dow explains, "I've been apart of the program since 1977, and that I know of, this is the best group of gymnasts the school has had." Mike also adds individuals on this team are school record holders, and meet record holders, which are both great accomplishments for the gymnastics team.
On Saturday and Sunday, the team and individuals competed for championship titles at the state competition, held at Montgomery High School. There were no falls by Cranford throughout the competition, and seniors Erin Infante, Bee Iosso, Gabby Markase, and Maddy Larrabee were all asked to represent team New Jersey at nationals in May. This senior class leaves big shoes to fill for incoming athletes with next season approaching around the corner.