Powder Puff From Up Above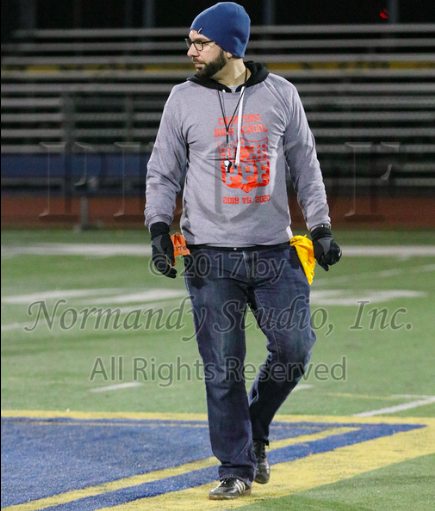 Austin Williams, Writer
December 10, 2018
This past week was CHS's Powder Puff  football game involving the female students of the class of 2019 and 2020. Up above the field were the announcers who kept statistics and read names occasionally throughout the game. After the game ended I had the pleasure of interviewing Frank Vito, a history teacher at Cranford High School, about his experience "calling" the game. Here is what he had to say:
Me: After watching the game what was the best part about watching some of your students play?
Vito: It was just awesome to see them work so hard for a fun charitable event that is almost always competitive. Obviously this year was different but it was still fun to be a part of.
Me: What were you most disappointed about after witnessing this blowout?
Vito: I have to be honest, I really thought the junior grade would be more kept up with their offensive play calling. Some of the girls looked a little confused which is probably why the seniors beat them so badly.
Me: Since you were in the booth for some of the game, what was the most impressive aspect of the seniors victory?
Vito: I was very impressed with the way the seniors were playing overall. They came out with lots of energy and passion which proved to be the winning factor.
Of course this is only one opinion of many who witnessed the game but it shows how seriously this was taken. Even though this is just a charity event and a fun competition between the two upper class grades it shows how complex and important it is for the students. At the end of the day the seniors won with a record amount of points due to exquisite game calling and hard working players that showed what it takes to be the leaders of Cranford High School.