Girls Enter the Rink at CHS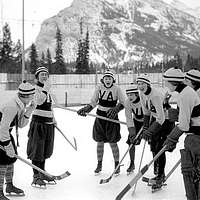 With the winter sports season kicking off this past November 21st, history was made; Cranford High School officially gained its first Girls' Ice Hockey team! Coached by CHS teachers Mr. Hurley and Mr. Leong, the team currently consists of 33 girls – a number much higher than initially anticipated. Although the starting point of each member ranges from beginner skater to experienced club hockey player, the team as a whole shows up to its 5:45 am practices eager to learn and progress together. Ana McCabe, a junior and member of the newly formed team, says: "The first few practices have been really fun so far, and I can see everyone improving already. I'm really excited for the first game!" The girls have their first game on December 9th against Princeton Day School.
The origins of ice hockey are not particularly definite, however, historians trace influences on the development of the game all the way back to the stick and ball games – most alike to field hockey – played in ancient Greek and Egyptian civilizations and by indigenous groups such as the Mi'kmaq in Nova Scotia. The stick and ball game was moved onto the ice and was first known as shinty until the name ice hockey appeared in the press during the late 18th century. The characteristic violence and intensity of hockey were shown even in the first public indoor game, which occurred between university students in Montreal's Victoria Skating Club in 1875. 
Although ice hockey is commonly considered a male-dominated sport, women have always held a presence in the game, with the first female Canadian player Isobel Stanley appearing in 1889.  Furthermore, women's hockey made major strides in the 20th century with the first Women's World Hockey Tournament held in Canada in 1987 and with Women's Ice Hockey being designated as an Olympic sport in 1998. 
Similar to other sports, women's hockey is not as commercially popular as men's hockey – one reason being men's hockey is significantly more violent and unregulated which draws audiences- however this should not discourage girls and women from stepping into the rink. The formation of a girls' hockey team in CHS is a milestone well worth celebrating!